The kids are alright. But the adults are screwed up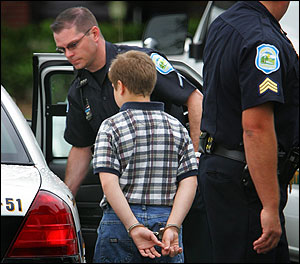 The 2009-10 legislative session at the PA state capitol is my first full session as ACLU-PA's legislative director. I've been learning a lot and really enjoying the work.
One thing that I've learned is that state legislators really despise our kids. Ok, that's an exaggeration, as I am wont to do in my blogging. I'm sure legislators don't actually despise Pennsylvania's kids.
But based on some of the initiatives that are being pushed at the state capitol, one couldn't help but think that our elected officials have completely forgotten what is was like to be a kid and are not consciously aware of the damage that some of their ideas would do to the commonwealth's children. Consider:
Police in schools.
Last year, the Senate passed
Senate Bill 56
, a bill that mandates public school administrators to call local police when certain offenses occur in school. The original bill was spectacularly draconian, even requiring school administrators to call the police for disorderly conduct and tobacco possession. To the credit of the primary sponsor, Senator Jeffrey Piccola of Dauphin County, some of the most egregious provisions were amended out of the bill.
But the bill is still a raw deal for Pennsylvania's children, especially younger children and kids with disabilities. There are no provisions to give administrators discretion for students' with intellectual disabilities or for younger students. A kindergarten student is held to the same standard as a senior in high school.
Do you think a kindergarten student couldn't be
hauled off in handcuffs
by the police? SB 56 could make it a more frequent occurrence.
We are hearing rumblings that a massive bill on the public school code will be part of this year's budget and that Senator Piccola is insisting that SB 56 be included in that bill.
Sexting.
We all agree that it is a really bad idea for young people to send nude or sexually provocative digital photos of themselves to their partners and friends. A photo like that might never go away.
The answer to this issue, according to Pennsylvania's district attorneys and some legislators, is to arrest the kids, including the kid who willing takes a picture of him- or herself and sends it to a willing participant, e.g. a boyfriend or girlfriend. And here's the best part: Some DAs claim that they are helping these kids. By arresting them.
Sexting is dumb behavior. It's also borne out of growing young people's desires to explore their sexuality, a natural part of being human. And the legislature and DAs in PA think they should be arrested for it.
House Bill 2189
would make all forms of sexting a misdemeanor. The bill passed out of the House Judiciary Committee last week after a
failed attempt
by
Rep. Kate Harper
of Montgomery County to further downgrade this "crime" to a summary offense.
Meanwhile, over the last two weeks, legislative chambers in Florida and Illinois have also passed bills on sexting. Bills that made it a summary. Do kids have a friend in Pennsylvania?
Gay foster kids.
It's hard to believe that anyone could think it's ok to discriminate against gay foster kids. LGBT foster kids often face abuse, as was well articulated in
an op-ed
this week by Cei Bell that was published in the Philadelphia Daily News.
In 2007, Rep. Phyllis Mundy of Wilkes Barre introduced
a bill
that she called a Foster Kids' Bill of Rights. The bill included a non-discrimination provision that included protection for foster kids based on race, color, religion, disability, sexual orientation, national origin, age or gender. When the bill got to the floor of the House, it was amended to water down the non-discrimination provision and essentially make it a suggestion but without the power of law. Why did this happen? Because the Pennsylvania Catholic Conference didn't want the protection for gay foster kids. I kid you not.
What kind of behavior, exactly, does the Catholic Conference want to be able to do to gay foster kids?
So Rep. Mundy has re-introduced the bill as
House Bill 2338
. The new bill includes the non-discrimination provision but without "sexual orientation." Rep. Mundy went kicking and screaming to the strategy of taking out SO as a protected class, and she gave us the green light to criticize the bill for that omission. Sue Kerr of
Pittsburgh Lesbian Correspondents
did just that:
They can't pass a bill that protects children from being abused in foster care based on their sexual orientation? I know we are battling mightily to add sexual orientation to non-discrimination laws, hate crimes laws, etc. But this is pretty despicable.
So let's recap: Kids who act out in school, as kids sometimes do, are prone to being hauled down to the police station. Kids who explore their sexuality, as kids sometimes do, are prone to being hauled down to the police station. And gay foster kids can't get protections passed by the state legislature.
The over-criminalization and abuse of our children has got to stop.
Andy in Harrisburg
Labels: LGBT, school discipline, sexting, students rights, youth